Violet Bent Backwards Over the Grass (book)
Author
Lana Del Rey
Country
United States
Language
English
Genre
Poetry
Publication date
September 29, 2020
Published by
Simon & Schuster Ltd
Pages
112
ISBN
9781471199660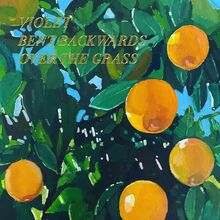 Violet Bent Backwards Over the Grass is the title for the upcoming book of poetry by Lana Del Rey. It is the first official book written by Del Rey. The book will be released September 29, 2020 accompanied by an audiobook.[1][2]
Background
Edit
Following Lust for Life, Del Rey had been looking for another creative outlet, and after trying painting, she found automatic writing. This process started to turn into poetry and short stories and after amassing numerous works, Del Rey began considering releasing a compilation of writings in a physical book form.
Del Rey first opened up about the poetry book during an interview with Annie Mac, on September 12, 2018, where she said that she first started writing poems in the latter half of 2017 during a period of writer's block with music:[3]
"I think I'm just going to self-publish it and put it out beforehand. It's kind of random. Which is kind of another one of those things I just want out there just for me. I literally might just drop these little books off at some bookstores in Silverlake and beg them to sell them. It's been really cool for me 'cause I was having a little bit of writer's block with the music last Fall and so I just sat down to write some words without music and I realised there was just a couple of things I wanted to say through some poems, which is funny. I feel like I'm in the 19th Century."
She spoke again about the book on September 18, 2018, during an interview with Zane Lowe after she premiered "Venice Bitch". Del Rey stated that the book will contain short stories and about 30 poems and it will be titled Violet Bent Backwards Over the Grass.
On January 2, 2019, during a video posted on Facebook, Del Rey announced that the book was finished on the last week of 2018 and that the entire writing process took 13 months.[4]
Between February 20, 2019 and April 11, 2019, Del Rey shared various poems on her Instagram account, including "Happy",[5] "Quiet Waiter Blue Forever",[6] "The Land of 1,000 fires",[7] "Never to Heaven",[8] and "Past the bushes cypress thriving".[9]
Del Rey explained her process for writing poetry turned out to be notably different from her process for writing music. She said:
"It's sort of in the vein of deep poetry where anything is allowed and it's totally free-form. Sometimes my pages will end with a couplet, right at the end, but it's mostly free-form."
The title itself is from a line in one of Del Rey's favourite poems she has written. The full line being:
"Violet bent backwards over the grass
Seven-years old with dandelions grasped tightly in her hand"
When the book was first mentioned on September 12, 2018 to Annie Mac during the premiere of "Mariners Apartment Complex" on BBC Radio 1, Del Rey explained that she wished to release the book prior to the release of Norman Fucking Rockwell! in early 2019. When asked by a fan through Instagram about how much the book would cost, Del Rey said "$1… because my thoughts are priceless."[10]
It was later announced that the physical poetry book will be released on September 29. An audiobook accompanied with music composed by Jack Antonoff will be released on July 28.
Through a video uploaded on Instagram, Del Rey confirmed that the book would be released as a spoken word album on January 4, 2020. Also, half of the albums proceeds would be donated to Native American organizations across America.[11] However, Del Rey later confirmed that the album would be released a month later.[12] This audiobook was released on July 28. 
On April 11, 2020, Del Rey uploaded the artwork of the album painted by Erika Lee Sears and a video she filmed in her car whilst one of her poems, "Happy", is playing in the background onto her Instagram.[13] The track includes music that was produced by Jack Antonoff, who also produced her sixth studio album Norman Fucking Rockwell!. Del Rey later deleted these posts just hours later. On April 23, 2020, she re-uploaded the album artwork to Instagram.[14] 
Starting in March, 2019, Del Rey started posting random Haikus from her poems through social media. It is unknown if they belong to separate poems or if some of them belong to the same.
Untitled Haiku #1[15]

"Jasmine in the air | the burden of fame is real | never felt so clear"
Untitled Haiki #6[20]

"No big decisions | to the lake or to the sea | My only question"
References
Edit
Community content is available under
CC-BY-SA
unless otherwise noted.