Hello!
Lately, I've been seeing people arguing whether "Honeymoun" user from Instagram leaked the highest quality of this demo or just the YouTube rip.
They stated on their curiouscat profile that "Beautiful People" demo original file existed in low quality from the source and any insiders that got their hands on it have the same file with same low quality.
I analyzed both files (the YouTube rip file and the file that they posted last time on Instagram claiming to be the highest quality) using Spek software and here are the results:
Evidence
Original file posted on Instagram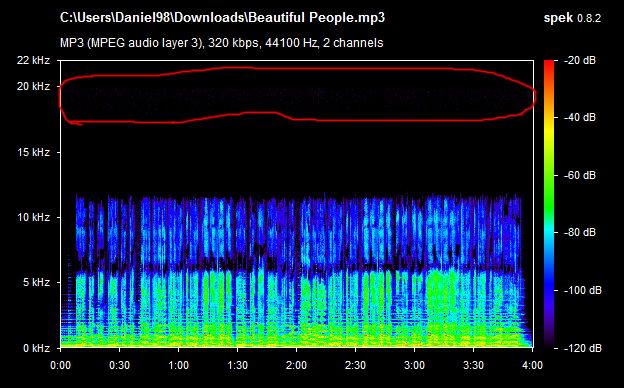 Results
As you can see, the original file has some wavelengths that are faintly going up to 20 kHz mark. They are hard to see so I tried to circle the zone and also I advise you to either zoom in the image or to make your screen brighter.
However, because the wavelengths are barely touching the 20 kHz, it is extremely hard to notice a difference in sound quality between the two versions. Still, the original version has a slightly higher quality and it is not altered by the YouTube compressing mechanism.
Probably the only thing altered from the original file are some of the ID3 tags (this is solely my opinion). "The Unreleased Collection" as album and "Sad-Core" as genre are tags that are not quite used by producers.
Conclusion
In conclusion, I believe that we got the original file or at least the demo in its original quality. I want to hear your thoughts and opinions about this so feel free to reply!
Have a nice day!
Community content is available under
CC-BY-SA
unless otherwise noted.