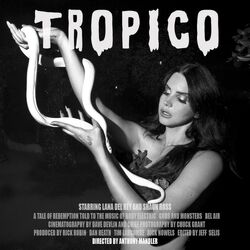 Tropico (stylized as TROPICO) is a short film directed by Anthony Mandler, and starring Lana Del Rey and co-star actor, Shaun Ross, running at approximately 27 minutes. The film serves as a visual for "Body Electric", "Gods & Monsters" and "Bel Air" from the EP Paradise, set to an original story. It was premiered at the Cinerama Dome in Hollywood on December 4, 2013, and was released on December 6 via Del Rey's official Vevo account. The film was described as "A tale of redemption told to the music of Body Electric, Gods & Monsters, Bel Air".
The film was first announced upon the release of the first music video for "Bel Air". When it was uploaded to Del Rey's YouTube channel on November 8, 2012, the video contained the following description:
"i lost my reputation, i forgot my truth. But i have my beauty and i have my youth. 'TROPICO' the film, coming next year"
Anthony Mandler was confirmed as the director of Tropico, making it his third video collaboration with Del Rey, his first two being "National Anthem" and "Ride". Shooting primarily took place in Chatsworth and Los Angeles, California, during June, 2013. The film features actors who play Elvis Presley, Marilyn Monroe and Jesus Christ, (all of whom are mentioned in "Body Electric").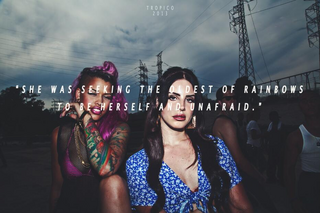 Tropico was officially released December 5, 2013, on Vevo and also as a digital EP that included the three featured songs and the film itself was released on all music services.
Tropico premiered in the Cinerama Dome in Hollywood, California, on December 4, at a premiere event hosted by Del Rey for her fans to attend. On the night, Del Rey also revealed the name of her then-upcoming studio album, Ultraviolence.
The movie starts out with the original Adam (portrayed by Shaun Ross) and Eve (portrayed by Lana Del Rey) in the Garden of Eden. God (portrayed by a John Wayne character), Jesus, Marilyn Monroe, and Elvis Presley are all present with Adam and Eve– as "Body Electric" begins to play. The whole movie is intercut with scenes of Del Rey playing Jesus' mother Mary. At the end of the song, Eve – tempted by the snake – decides to eat an apple from Tree of Knowledge of Good and Evil. After she eats it, thunder strikes and she faints. Adam then decides to eat from the apple as well in order to join his lover. As a result of this, they are cast out of their "Paradise", the Garden of Eden.
Chapter 2 – Gods & Monsters

[

edit

|

edit source

]
Del Rey then starts to recite Walt Whitman's "I Sing the Body Electric" as time flash forwards to a modern-day Adam and Eve living in Los Angeles; Del Rey works as a stripper while Ross is a gang member who also works as a clerk at a convenience store during the day. There is a reference to their "Paradise" in the convenience store, as there is a sign that says "El Paraíso" or "The Paradise" in Spanish. In this segment – "Gods & Monsters" begins to play. After the song ends, Del Rey recites Allen Ginsberg's "Howl" as a group of wealthy middle aged men are seen surprising their friend on his birthday by bringing him strippers. A couple of minutes after the strippers enter the room, Ross and his gang suddenly show up with guns in hand and steal all their money.
God appears and begins to narrate John Mitchum's poem "Why I Love America" ("You ask me why I love her? Well, give me time. I'll explain. Have you seen a Kansas sunset, or an Arizona rain?"). The Adam and Eve characters then get in their car and end up driving to a country-side wheat field. Clips show the pair being baptised as they begin to undress. "Bel Air" then plays in the sunset. The two characters then ascend back into heaven, having finally redeemed themselves, as flying saucers appear in the sky.
In the weeks leading up to the release of Tropico, Del Rey released two official teasers on her official YouTube channel as well as two official trailers, one released on her YouTube channel, and one on her Vevo channel. The first teaser shows Del Rey crouching on her knees and praying while wearing a blue dress and head dress, and the second teaser shows Del Rey and Shaun Ross together as Adam and Eve in the Garden of Eden with Marilyn Monroe, Elvis, and Jesus.
Starting July 27, 2013, Del Rey released the first of three official posters for Tropico. All of the posters were shot in the opening garden scene with the words "TROPICO" sprawled in capital letters somewhere across the poster. The first poster is shot in full black and white, and features Del Rey and the white serpent from the Garden of Eden in her hands, as it slithers around her shoulders. The second features both Del Rey and Ross together in the garden in a full-length body shot with the gold foil plants and trees surrounding them. The third and final poster was released in sepia tone. This shot sees Del Rey crouching on her knees on the ground in the the same outfit used in the first official teaser video.
Upon release, Tropico received mixed reviews from critics. Jason Lipshutz of Billboard called the film "a work of overflowing, era-traversing passion" and called the climax of the film "pure bliss".[1] Under the Gun took issue with the "somewhat nonsensical" narration throughout the film, but said as a whole the film was "certainly something special".[2] Similarly, Jimmy So of The Daily Beast also criticized the film's narration and compared it to "a campy arthouse movie" and described Del Rey's videos to this point as being "starved of creativity".[3] In contrast, James Caterino of Examiner gave the film a 5-star review writing "The imagery is breathtaking and the voice-over narration so jam-packed with poetic prose that it sears into the soul... She is an artistic force who never fails to fascinate—and to make us feel". In a slightly more critical but equally optimistic review, Sal Cinquemani of Slant added "It's obvious from the big bang that opens the film that Del Rey and Mandler have zero interest in subtlety, but interestingly, Del Rey doesn't position herself among the film's icons of Americana the way, say, Kanye West or Lady Gaga might. Instead, her work continues to serve as both a tribute to an imagined past and a critique of contemporary pop culture".[4]
Music video
Information
Released
December 5, 2013
Length
27:08
Director
Anthony Mandler
Producer
Heather Heller
Filmed
June, 2013
Location
Los Angeles, California
Vevo views
8+ Million Views
00:06 – The Holy Bible: Genesis 1: 2–4.
00:32 – Pater Noster.
00:45 – Jewish Invocation.
01:35 – Marilyn Monroe.
01:39 – Elvis Presley.
01:52 – Marilyn Monroe as (Sugar "Kane" Kowalczyk). "I'm Through with Love", Some Like It Hot, (United Artists, 1959).
01:54 – NCIS, (2003–) / John Wayne as (Capt. Nathan Cutting Brittles). She Wore a Yellow Ribbon, (RKO, 1949).
02:18 – Marilyn Monroe. The Seven Year Itch, (20th Century Fox, 1955).
02:38 – Body Electric.
06:32 – Walt Whitman. "I Sing the Body Electric", Leaves of Grass, (1892).
10:04 – Gods & Monsters.
14:54 – Allen Ginsberg. "Howl".
18:11 – John Mitchum. "America, Why I Love Her".
20:37 – Bel Air.
Main article: Tropico (EP)
Tropico was released as a digital EP on iTunes including the three songs feature in the film, as well as the film itself.
#
Name
Time
1.
"Body Electric"  
3:53
2.
"Gods & Monsters"  
3:57
3.
"Bel Air"  
3:57
4.
"Tropico"  
27:08
Gagapedia
Cast
Lana Del Rey as Eve and Virgin Mary
Shaun Ross as Adam
Jeffrey Wayne Sutherland as John Wayne
Lloyd Douglas as Elvis Presley
Jodi Fleischer as Marilyn Monroe
Kevin Lee Light as Jesus
Jeff Skora, Noel Schwab, Steve Carnaham, Andy Brosseau, Roger Rignack, Jan Freifeld & Richard Halverson as Business Men
Colette, Bernadette, Alyssa Morgan & Trystin Schou as Summertime Girls
Brandon Knaff, Morgan Smith, Charlie Grant, Mark Doble, John Dane, Lawson Taylor & Simba as Tweekers
Crew
Lana Del Rey — writer
Anthony Mandler — director
Heather Heller — producer
Karl Reid — production supervisor
Dave Devlin — cinematographer
Jeff Selis — editor
Tom Poole — telecine
Lana Del Rey, Daniel Heath, Tim Larcombe & Rick Nowels — music
Daniel Heath — musical score
Johnny Blue Eyes — stylist
Anna Cofone — hair stylist
Pamela Cochrane — make up artist
Ed Millett & Ben Mawson — management
Song credits
"Body Electric", written by Lana Del Rey and Rick Nowels © 2012
"Gods & Monsters", written by Lana Del Rey and Tim Larcombe © 2012
"Bel Air", written by Lana Del Rey and Daniel Heath © 2012
"Always on My Mind", written by Mark James, Wayne Thompson & John Christopher Jr. © 1972
"I'm Through with Love", written by Gus Khan, Matt Malneck & Joseph Livingston © 1932
"Love Me", written by Jerry Leiber & Mike Stoller © 1954
"America, Why I Love Her", composed by John Mitchum © 1973
Excerpt from "Howl", written by Allen Ginsberg © 1956
Community content is available under
CC-BY-SA
unless otherwise noted.