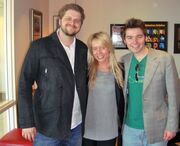 The Nexus is the collective name for the songwriters and producers David Sneddon and James Bauer-Mein. The production team have worked with Lana Del Rey several times, notably on "National Anthem" for her debut major-label album Born to Die.
Work on "National Anthem"
[
]
Main article: National Anthem (song)
The duo started the song with Del Rey in 2010. They produced demo versions of the song, but it was later re-produced by Emile Haynie, though the pair's work as writers are still credited. The song was later released as the fifth single from the album.
Work with Lana Del Rey
[
]
Songs from Born to Die (2012):
Songs currently unreleased: