Lana Del Rey
Year(s)
2013–2014
Start date
April 3, 2013
End date
October 18, 2014
Legs
10
Number of shows
54 in Europe
33 in North America
1 in Asia
5 in South America
93 Total
Guest(s)
Kassidy
Max Jury
Jimmy Gnecco
Father John Misty
For
Tour chronology
The Paradise Tour was the second worldwide concert tour by Lana Del Rey, it was in support of her third EP, and second major-label release, Paradise. It began on April 3, 2013, at Galaxie Mega Hall in Amnéville, France, and ended on October 18, 2014, at Hollywood Forever Cemetry in Los Angeles, California.
In support of her then-upcoming release Paradise, on October 31, 2012, Del Rey announced European dates for her upcoming tour.[1] In early 2014 she announced a second leg for the tour with more dates in North America.[2] The second leg featured songs from Ultraviolence. Tour dates for various festival performances across the world and other miscellaneous concerts were announced at separate times.
An album containing 18 tracks created to aid the videographer leaked in full on October 15, 2020. The tracks are stem edits using studio vocals with added instrumentation from her touring band.
Set design of the first leg was created by Block9, a duo comprised of Gideon Berger and Stephen Gallagher. Inspiration was taken from her major-label debut Born to Die, and was described by themselves as "a world steeped in faded Hollywood glamour, with a subtle contemporary edge. A backdrop of golden, art deco windows act to frame to the specially commissioned re-edits of videos from the album, and a crumbling grand piano houses two midi-keyboards. Bespoke period chandelier and lighting fixtures are fitted with programmable LED's allowing them to be integrated into the show and a pair of hand-sculpted lions sit as guardians at the edge of the stage. Completing the scene are six real, taxidermy crows that have raided Del Rey's dressing table – the stolen jewels in their beaks catching the light."[3]
The stage set-up for the European leg of the tour from April to July 2013 also featured an on-stage orchestra and palm-tree props beside the large frame in the back of the stage. The frame served as a display screen for Del Rey's visual backdrop videos that changed as she performed different songs. The stage design for the American leg of the tour from April to May 2014 was differently set up, as it displayed a large throne behind Del Rey while retaining similar plant and palm tree props. Stage design varied for festival performances and various concerts.
Mark Wood, a lighting designer, toured with Del Rey for the 2013 European leg and 2014 North American leg. He controlled lighting and set design backstage. Wood also worked with Del Rey for her 2011 Born to Die Tour and 2015 Endless Summer Tour, as well as a few other appearances.[4][5]
The setlist varied from date to date, but in total is composed of 22 songs, 7 from Paradise, 11 from Born to Die, 3 covers, 1 soundtrack song, and 1 other song that was used as an intro.
Songs marked with an asterisk (*) were not performed at every date. Some were only performed at certain specific date, "I Love Paris" was performed on April 27 and 28, 2013 in Paris, France. An a cappella version of "Off to the Races" was performed on November 7 in Belo Horizonte, Brazil.[6]
The setlist varied from date to date, but in total is composed of 22 songs, 4 from Paradise, 10 from Born to Die, 7 from Ultraviolence, and 1 soundtrack song.
Songs marked with an asterisk (*) were not performed at every date. Some were only performed at a certain specific date. Del Rey also played "Old Money", "Radio", "Money Power Glory", "Without You", "Fucked My Way Up to the Top" during more than one select show. "Dark Paradise" was performed at Cintermex, Monterrey, Mexico on October 9, 2014 and "Shades of Cool" was performed at Hollywood Forever Cemetery, in Los Angeles, United States, on October 18, 2014.[7][8]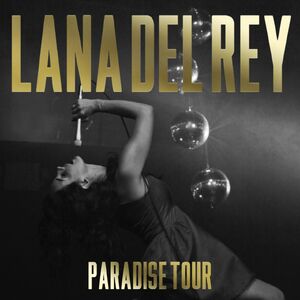 A studio album that includes 18 songs performed on the tour leaked on October 15, 2020. It includes 7 songs from Paradise, 10 songs from Born to Die, 1 cover (as part of the outro to another song) and 1 soundtrack song.
The album cover was photographed by Del Rey's sister, Chuck Grant, while the filming of the music video for "Ride".
List of concerts, showing date, city, country, venue or festival, and opening acts.[9]
Date
City
Country
Venue
Opening acts
Europe
April 3, 2013
Amnéville
France
Galaxie Mega Hall
N/A
April 5, 2013
Copenhagen
Denmark
Tap1
Kassidy
April 6, 2013
Hamburg
Germany
Barclaycard Arena
April 8, 2013
Stockholm
Sweden
Annexet
April 10, 2013
Oslo
Norway
Oslo Spektrum
April 12, 2013
Frederiksberg
Denmark
Falconer Salen
April 13, 2013[a]
Prague
Czech Republic
Archa Theatre
N/A
April 15, 2013
Berlin
Germany
Velodrom
Kassidy
April 17, 2013
Düsseldorf
Mitsubishi Electric Halle
April 19, 2013
Vienna
Austria
Bank Austria Halle
April 20, 2013
Frankfurt
Germany
Jahrhunderthalle
April 25, 2013
Munich
Zenith
April 27, 2013
Paris
France
Olympia
April 28, 2013
April 30, 2013
Esch-sur-Alzette
Luxembourg
Rockhal
May 1, 2013
Geneva
Switzerland
SEG Geneva Arena
May 3, 2013
Turin
Italy
Pala Alpitour
May 4, 2013
Monaco City
Monaco
Salle Garnier
May 6, 2013
Rome
Italy
PalaLottomatica
May 7, 2013
Assago
Mediolanum Forum
May 9, 2013
Madrid
Spain
Sala Riviera
May 12, 2013
Birmingham
United Kingdom
O2 Academy Birmingham
May 13, 2013
May 16, 2013
Glasgow
SEC Centre
May 19, 2013
London
Eventim Apollo
May 20, 2013
May 23, 2013
Manchester
O2 Apollo Manchester
Sam Bradley
May 24, 2013
Billy Locket
May 26, 2013
Dublin
Ireland
Vicar Street
Kassidy
May 27, 2013
May 29, 2013
Amsterdam
Netherlands
AFAS Live
May 31, 2013
Brussels
Belgium
Forest National
June 2, 2013
Warsaw
Poland
Torwar Hall
Dawid Podsiadło
June 4, 2013
Vilnius
Lithuania
Siemens Arena
Golden Parazyth
June 10, 2013
Kiev
Ukraine
Palace "Ukraine"
The Maneken
June 12, 2013
Minsk
Belarus
Minsk Arena
Markas Palubenka
June 14, 2013
Riga
Latvia
Arēna Rīga
Iiris
June 16, 2013
Helsinki
Finland
Hartwall Arena
Kari Tapiiri
July 5, 2013[b]
Barcelona
Spain
Pedralbes Royal Palace
L.A.
July 8, 2013[c]
Malakasa
Greece
Terra Vibe Park
N/A
Asia
July 10, 2013[d]
Byblos
Lebanon
Byblos Seaside Amphitheater
The Wanton Bishops
Europe
July 15, 2013
Krasnogorsk
Russia
Crocus City Hall
N/A
July 17, 2013
Saint Petersburg
Ice Palace
Andrei Samsonov & Laska Omnia
North America
August 1, 2013
Chicago
United States
House of Blues Chicago
Max Jury
August 2, 2013[e]
Grant Park
N/A
Europe
September 20, 2013
Istanbul
Turkey
KüçükÇiftlik Park
Yok Öyle Kararlı Şeyler
North America
November 4, 2013
Mexico City
Mexico
Pepsi Center WTC
N/A
South America
November 7, 2013
Belo Horizonte
Brazil
KM de Vantagens Hall
Silva
November 9, 2013[f]
São Paulo
Campo de Marte Airport
N/A
November 10, 2013
Rio de Janeiro
KM de Vantagens Hall
Silva
November 12, 2013[g]
Santiago
Chile
Movistar Arena
N/A
November 14, 2013[h]
Buenos Aires
Argentina
Tecnópolis
North America
April 11, 2014
Paradise
United States
The Chelsea
DJ Born Casual
April 13, 2014[i]
Indio
Empire Polo Club
N/A
April 15, 2014
Phoenix
Comerica Theatre
April 18, 2014
San Francisco
Bill Graham Civic Auditorium
April 20, 2014[j]
Indio
Empire Polo Club
April 23, 2014
Grand Prairie
Verizon Theatre
April 25, 2014
New Orleans
Bold Sphere Music at Champions Square
April 27, 2014
Miami
The Fillmore Miami Beach
April 28, 2014
Orlando
Hard Rock Live Orlando
May 1, 2014
Atlanta
Tabernacle
Jimmy Gnecco
May 2, 2014
Nashville
Ryman Auditorium
May 5, 2014
Montreal
Canada
Bell Centre
May 6, 2014
Boston
United States
House of Blues Boston
May 8, 2014
Wallingford
Toyota Oakdale Theatre
May 10, 2014[k]
Columbia
Merriweather Post Pavilion
N/A
May 11, 2014
Philadelphia
Skyline Stage at the Mann
Jimmy Gnecco
May 13, 2014
Toronto
Canada
Sony Centre for the Performing Arts
May 15, 2014
Detroit
United States
Masonic Theater
May 16, 2014
Chicago
Aragon Ballroom
May 19, 2014
Morrison
Red Rocks Amphitheatre
May 25, 2014
Vancouver
Canada
PNE Amphitheatre
Father John Misty
May 27, 2014
Seattle
United States
WaMu Theater
May 30, 2014
Los Angeles
Shrine Exposition Hall
Europe
June 13, 2014[l]
Aarhus
Denmark
Ådalen
N/A
June 14, 2014[m]
Bergenhus
Norway
Bergenhus Fortress
June 20, 2014[n]
Berlin
Germany
Spandau Citadel
Max Jury
June 21, 2014[o]
Paris
France
Olympia
N/A
June 26, 2014[p]
Norrköping
Sweden
F 13 Norrköping
June 28, 2014[q]
Pilton
United Kingdom
Worthy Farm
July 4, 2014[r]
Monaco City
Monaco
Monte-Carlo Sporting
July 5, 2014[s]
Vilanova i la Geltrú
Spain
Masia d'en Cabanyes
July 15, 2014[t]
Cork
Ireland
Docklands
Max Jury
July 17, 2014[u]
Carcassonne
France
Jean-Deschamps Theatre
N/A
August 24, 2014[v]
Saint-Cloud
Parc de Saint-Cloud
North America
September 20, 2014[w]
Atlanta
United States
Piedmont Park
N/A
October 4, 2014[x]
Austin
Zilker Park
October 6, 2014
Mexico City
Mexico
National Auditorium
October 7, 2014
October 9, 2014
Monterrey
Cintermex
October 11, 2014[y]
Austin
United States
Zilker Park
October 17, 2014
Los Angeles
Hollywood Forever Cemetery
Carlos Gabriel Niño
October 18, 2014
List of cancelled concerts, showing date, city, country, venue, and reason for cancellation.
Date
City
Country
Venue
Reason
Asia
August 20, 2014
Tel Aviv
Israel
Tel Aviv Convention Center
Gaza–Israel conflict[10]
Community content is available under
CC-BY-SA
unless otherwise noted.