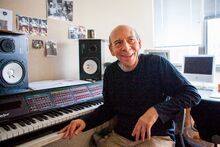 Larry Gold (Born in 1948 in North Philadelphia) is a Grammy award winning music producer, strings arranger, conductor, composer and cellist. Originally a classical and gospel trained musician since he was 13 years old, he is also known for his collaborations with big artists such as Justin Timberlake, Michael Jackson, Mariah Carey, Aretha Franklin, Kid Cudi, among many others. He has been working since the 70s, and has done strings arrangements for many hip hop records, which led to a long time career working with producer Emile Haynie.
Larry Gold is a frequent collaborator of Emile Haynie, and they worked together on Del Rey's first album Born to Die. Gold worked with 'The Larry Gold Orchestra' from Philadelphia as the main string arranger, composer and conductor of the whole record, sans "Video Games" that was fully produced by the duo Robopop and it didn't use live strings to create the orchestral sound. He also worked with Haynie and Del Rey on the Paradise track "Blue Velvet", and on Haynie's entire debut album We Fall, including the track "Wait for Life" that featured Del Rey vocals.
Del Rey has talked about him on various interviews and has credited him as making a huge contribution for developing her sound. She stated that "Larry Gold understands working with pictures as far as direction goes. He conducted the Philadelphia Orchestra and put strings on most of the record, knowing that I wanted lush strings that had a sad, summertime sound" [1]
"Blue Velvet" — Instrumentation: Strings Arrangement, Strings Conductor.
"Wait For Life" — Instrumentation: Strings Arrangement, Strings Conductor, Strings, Horns, Woodwinds.
Community content is available under
CC-BY-SA
unless otherwise noted.