This article is about the singer Lana Del Rey. For her debut album, see Lana Del Ray (album). For her self-titled EP, see Lana Del Rey (EP).
Elizabeth Woolridge Grant (born June 21, 1985), known professionally as Lana Del Rey, is an American singer, songwriter, record producer, poet, model, and music video director. Her music has been noted by critics for its stylized cinematic quality; its preoccupation with themes of tragic romance, glamour, and melancholia; and its references to pop culture, particularly 1950s and 1960s Americana.
Raised in Upstate New York, Del Rey moved to New York City in 2005 to embark on her music career. Following numerous projects including her debut studio album and the unreleased Sirens, Del Rey's breakthrough came after the viral success of her debut single "Video Games" in 2011. She then signed with Interscope and Polydor later that year. Her major-label debut Born to Die (2012) proved an international success and spawned her first top-ten single on the Billboard Hot 100 with the Cedric Gervais remix of "Summertime Sadness".
Del Rey released the Grammy-nominated EP, Paradise (2012), to further positive reviews. In 2013, Del Rey ventured into the film as she wrote, directed, and starred in the short music film, Tropico (2013), and released "Young and Beautiful", the theme for The Great Gatsby (2013). Del Rey subsequently issued her sophomore major-label effort, Ultraviolence (2014), to similar success as it topped the charts and spawned the hit single, "West Coast". That same year, Del Rey recorded the eponymous theme for Big Eyes (2014), which garnered her both a Grammy and Golden Globe nomination. Since then, Del Rey has released Honeymoon (2015) and Lust for Life (2017), the latter of which topped the charts in numerous countries and was nominated for the Grammy Award for Best Pop Vocal Album.
Del Rey's sixth studio album, Norman Fucking Rockwell!, was released on August 30, 2019. Her first poetry book, titled Violet Bent Backwards Over the Grass was was released on September 29, 2020, accompanied by an audiobook. Del Rey would go on to release two albums in 2021, Chemtrails Over the Country Club and Blue Banisters.
Early life
Lana Del Rey was born Elizabeth Woolridge Grant in New York City on June 21, 1985, the oldest to Robert England Grant, Jr., a Grey Group copywriter turned entrepreneur, and Patricia Ann "Pat" (Hill), a former Grey account executive turned high school teacher. She has one younger sister, Caroline Grant, and one brother, Charlie. She has one niece, Phoenix Pickens-Grant, who is the daughter of her sister. Her paternal grandfather, Robert England Grant, Sr. was a Kidder, Peabody & Co. investment banker, a vice president for Plough, Inc, Textron, and venture capitalist. She is of Scottish descent.
Del Rey grew up in rural Lake Placid, New York, and was raised Roman Catholic. She attended a Catholic elementary school and for one year, a high school where her mother taught. She began singing in her church choir when she was a child, where she was the cantor. At age fifteen, she was sent to Kent School by her parents to deal with her rampant alcohol abuse; her uncle, an admissions officer at the school, secured her financial aid to attend.
Before becoming a singer, Del Rey wanted to be a poet. As a child, her father wrote country songs for personal enjoyment, while her mother was interested in singing; the former introduced her to The Beach Boys, while the latter was a fan of Carly Simon.
After graduating, Del Rey was accepted to the State University of New York at Geneseo, but she decided not to attend and instead spent a year living on Long Island with her aunt and uncle while working as a waitress. During this time, Del Rey's uncle taught her how to play guitar, and she "realized [that she] could probably write a million songs with those six chords". Shortly after, she began writing songs and performing in nightclubs around the city under various names such as "Sparkle Jump Rope Queen" and "Lizzy Grant and the Phenomena". "I was always singing, but didn't plan on pursuing it seriously", Del Rey said. "When I got to New York City when I was eighteen, I started playing in clubs in Brooklyn—I have good friends and devoted fans on the underground scene, but we were playing for each other at that point—and that was it".
The following fall, she enrolled at Fordham University where she majored in philosophy, with an emphasis on metaphysics. Del Rey said she chose to study the subject because it "bridged the gap between God and science... I was interested in God and how technology could bring us closer to finding out where we came from and why". According to Del Rey, she had trouble making friends in boarding school and college, and said, "that was when my musical experience began. I kind of found people for myself". She lived in The Bronx and later moved to New Jersey while in college, and volunteered at homeless youth and drug and alcohol outreach programs, as well as helping paint and rebuild houses on an Indian reservation in the western United States. After college, she moved to Brooklyn, where she resided for another four years.
Career
Career beginnings and Sirens
Main article: Sirens (album)
After returning to New York at 18 years old, Del Rey began studying metaphysics at Fordham College. It was around this time when she quit drinking due to an incident where she lost her parents' car, however, without drinking, she felt "out of sync" with campus life.[1] She began making social connections to other musicians who encouraged her to experiment with music. After learning six chords on the guitar from her uncle, she began writing music. On learning guitar, she said, "I realized I could probably write a million songs with those six chords". The result of her writing was the production of her first album, Sirens. The acoustic album, written entirely by Del Rey under the stage name "May Jailer", was the beginning roots of her musical life and showcased a more fragile and peaceful take on her voice and sound.
She began playing songs in various underground clubs in New York in 2005 and continued writing and performing for the next few years. Her stage name changed many times through this period, beginning with "May Jailer", evolving into "Lizzy Grant and the Phenomena", shortly becoming "Sparkle Jump Rope Queen", and eventually becoming Lizzy Grant. She graduated from Fordham College with a BA in philosophy. Halfway through college, Del Rey received a $10,000 record contract. With the money, she rented a $400 a month trailer in New Jersey and began her music career.
2007–2010: Lana Del Ray era
Main article: Lana Del Ray (album)
After recording a demo EP in 2007 titled No Kung Fu, Del Rey began work on her first studio album. She sent the EP to various producers with the intent of finding someone to work with her, and after listening to her tracks, David Kahne agreed to collaborate with her. The two began recording in 2008 and recorded every day for three months. Her first EP was released after they began their sessions, Kill Kill, which included three tracks - "Kill Kill", "Gramma", and "Yayo". The three songs off the EP would later be included in her debut LP, Lana Del Ray. Del Rey had recorded the album previously with her then-boyfriend Steven Mertens, but his contributions were ultimately scrapped. The album was released by 5 Points Records on January 5, 2010, to iTunes and Amazon. Shortly after this, it was removed from all services and Del Rey bought the rights to the album back from her label after deciding to proceed with a different musical aim. The record was removed from all circulation, but a re-recording of the song "Yayo" appeared later on Paradise.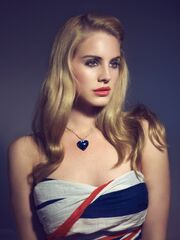 2010–2012: Born to Die era
Main article: Born to Die (album)
Later in 2010, Del Rey began work on her major-label debut album, Born to Die. She and Justin Parker began working with each other at this time. She dyed her naturally blonde hair auburn in 2010 and began releasing self-made videos featuring noir cinema clips interlaced with her own videos, made on her Apple computer, in mid-2010. She posted "Video Games" to her Youtube channel on August 19, 2011. The song and video immediately began to garner attention from music critics, who hailed the fragility of her voice and the song's production, and she was signed to Stranger Records the following month. The song was released as a double A-side along with "Blue Jeans" on October 16, 2011. Soon, Del Rey signed with Interscope Records and Polydor Records and began preparing Born to Die for release in early 2012.
Interscope and Polydor introduced Del Rey to various producers, including Rick Nowels and Emile Haynie. She began recording both older songs and new material for the album, and "Born to Die" was released on December 30, 2011, as the second single from the then-untitled album. Del Rey began promotion of the material soon after being signed and performed in many intimate venues and shows. She made her U.S. television debut on January 14, 2012, alongside Daniel Radcliffe on the comedy show Saturday Night Live. The performance received polarized reviews, with some calling it the "worst performance in SNL history", while some attributed Del Rey's stage presence to stage-jitters, due to the fact that it was her first performance on American television.
Despite the mixed reception of the album, it performed well commercially, especially in European territories. The record was the third best selling of the year in the United Kingdom. As of June 2014, the record has sold over 7 million copies worldwide, it is recognized as Del Rey's most impactful work.
2012–2013: Paradise era
Main article: Paradise (EP)
In an interview with RTVE on June 15, 2012, Del Rey announced she has been working on a new album due in November, and that five tracks have already been written, two of them being "Will You Still Love Me When I'm No Longer Young and Beautiful", "In the Land of Gods and Monsters" and the other track titled "I Sing the Body Electric", which was performed at BBC Radio 1's Hackney Weekend that month. In an interview with Tim Blackwell for Nova FM in Melbourne, Australia, Del Rey added that her upcoming November release would not be a new album but an EP, which she described as the "Paradise Edition of Born to Die". On September 25, 2012, Del Rey released the lead single "Ride" with positive reception. The EP was released on November 9, 2012, with 8 tracks and one bonus iTunes exclusive track, "Burning Desire". Beginning in April 2013, Del Rey embarked on an expansive worldwide concert tour in support of the EP.
The song "Young and Beautiful", which was originally intended for the Paradise EP, was later released on April 23, 2013, as part of the movie soundtrack for Baz Luhrmann's film The Great Gatsby. The song achieved commercial success and widespread critical acclaim, and earned Del Rey a nomination for "Best Song Written for Visual Media" at the 56th Annual Grammy Awards.
In June 2013, Del Rey began filming the Anthony Mandler directed short film Tropico, which she called a "farewell" to the Born to Die era. The short film was premiered at the Cinerama Dome in Hollywood, California on December 4, 2013, and released to YouTube and Vevo on the following day. At the premiere, Del Rey announced the title of her second full-length major-label album Ultraviolence. The short film received mixed reviews.
2014–2015: Ultraviolence era
Main article: Ultraviolence (album)
Del Rey had been working on her Born to Die follow up album since its release, but felt there was no real substance until November 2013 when she sat down with melodies and lyrics she had been working on and wrote the album. Over three weeks in Electric Lady Studios in New York, Del Rey recorded the album with Rick Nowels. By the end of the session, the album was complete. However, shortly after Dan Auerbach and Del Rey met in a club and decided to work together. A week later, Del Rey rerecorded the entire album with Auerbach using a Shure SM-58 microphone and a live band.
In interviews around this time, Del Rey talked about the development of her album, playing tracks, such as "Black Beauty" and describing the album as dark and spiritual. After "Black Beauty" leaked, Del Rey said "I do feel discouraged, yeah. I don't really know what to put on the record. But I guess I could just put them on and see what happens" leaving the fate of the song on the album uncertain. She added, she was working on Ultraviolence "until my record got leaked last week, 'cause my life is like completely invaded. But yeah, I'm writing songs that I really like right now. They're really low-key and stripped back, all sort of West Coast inspired."
On February 20, 2014, Del Rey posted a picture of herself and Auerbach on Twitter with the caption "Me and Dan Auerbach are excited to present you Ultraviolence".[2]
"West Coast" was released as the album's lead single on April 14, 2014. It received critical acclaim and performed modestly on the charts, entering the Top 40 in many countries. A music video was released on May 7. "Shades of Cool" was announced to be the album's first promotional single and was released on May 26. The music video for the track premiered on June 17. "Ultraviolence" was the next promotional single, followed by "Brooklyn Baby" which was released on June 4 and June 8, respectively. A snippet of a music video for the song "Pretty When You Cry" was released through Del Rey's Instagram on June 16.
"Ultraviolence" was released as the album's second single on August 18, 2014, with a music video featuring Del Rey as a bride released on July 30. On November 21, 2014, "Black Beauty" was released as a single exclusively in Germany alongside a remix EP.
In November 2014, rumors circulated surrounding Del Rey's involvement with Tim Burton's Big Eyes, culminating in the revelation that she had recorded two songs for the film, a titular track, "Big Eyes" and another called "I Can Fly" written with Dan Heath and Rick Nowels respectively, the latter song of which earned Del Rey a Golden Globe nomination for "Best Original Song". In early 2015, Del Rey was featured in Emile Haynie's album We Fall, co-writing and providing vocals for "Wait for Life".
On December 1, 2014, a concert tour supporting the album was announced as the Endless Summer Tour with multiple dates across North America select dates on the tour were supported by one of Del Rey's inspirations, Courtney Love, while others were supported by Grimes. The tour began on May 7, 2015, and concluded on June 16, 2015.
2015–2016: Honeymoon era
Main article: Honeymoon (album)
The successor to Ultraviolence was first mentioned in a radio interview in June 2014, by Del Rey who explained she had a concept for an album titled Music to Watch Boys To that she was developing. In October of that same year, she expressed interest in working with Giorgio Moroder, an influential disco producer. In an interview with Grazia magazine in December 2014, she announced she had already written 10 tracks for the album, was working with Mark Ronson and expected the album to be out after her Endless Summer Tour in late August 2015.
Del Rey confirmed the title of the album to be Honeymoon in an interview with Billboard at the start of 2015. She explained that 9 tracks were finished, and she was "looking for a few more songs to tie everything together".
On July 14, 2015, Del Rey uploaded the audio of the song "Honeymoon", the title track from the record, on her personal YouTube account. The video shows Del Rey relaxing in the hills of California for approximately 30 seconds, then transitioning into the lyrics of the song. Despite its early release, "Honeymoon" was not available for purchase on iTunes until September 9, 2015, when it was released as the second promotional single from the record.
On August 4, 2015, Del Rey announced the lead single "High by the Beach", and that the track would be released on August 10 of the same year. The track leaked on August 7, 2015, onto YouTube and the social media platform Tumblr before the official release on the promised date of August 10. It received general appraise from the public, especially due to the fact that Del Rey explored the sound of "trap." The official music video for the single was uploaded to Del Rey's Vevo channel on August 13, 2015.
On August 20, 2015, Del Rey announced the tracklisting of Honeymoon via social media. The album went up for pre-order the next day, and it included "High by the Beach" and the first promotional single, "Terrence Loves You".
The last single from the record was called "Music to Watch Boys To". On June 4, 2015, model Jake Mast tweeted that the music video for the song he had filmed with Del Rey earlier in the year was for the track and would be released in June, however, by the end of the month, no song or video had been released and they were instead released in September. On September 1, 2015, Del Rey posted a photo depicting the behind-the-scenes of the music video for the track on Instagram. A snippet of the song was featured alongside excerpts from "Terrence Loves You", "Freak" and "High by the Beach" in an album sampler released September 8, 2015. On September 9, 2015, Del Rey posted the official artwork of "Music to Watch Boys To" on social media sites along with an announcement that the track would premier later that day on Beats 1 Radio. On September 11, 2015, the single's official audio was uploaded to Del Rey's Vevo channel, and the song was also on iTunes. On September 30, 2015, the official music video for the song was uploaded to Del Rey's Vevo channel.
Honeymoon was officially released worldwide on September 18, 2015. The record was written and produced solely by Del Rey with long-time collaborators Rick Nowels and Kieron Menzies, and it was met with positive critical reception. Although the record was not heavily promoted, it debuted at number two in the United States and the United Kingdom as well as reached the top 10 of almost every country it charted in.
On February 9, 2016, Del Rey hosted a premiere for the music video of her song "Freak". It was located at The Wiltern, in Los Angeles, California. The video debuted via Del Rey's Vevo channel on the same date.
Starting in December 2015, Del Rey began announcing festival performance dates across Europe, Canada, the United States, and Mexico to further promote Honeymoon, despite there being no official concert tour to support the album.[3] She performed at these festivals throughout the summer of 2016.
2017–2018: Lust for Life era
Main article: Lust for Life (album)
In October 2015, Del Rey announced that she planned writing material for her new record.[4] She stated that she wanted the upcoming record to have a "pop-friendly" and "New York style" sound,[5] and to be a little harder, faster, more upbeat, and less dreamy.[6] In January 2016, Del Rey was nominated with the "Favorite Female Artist" award at the People's Choice Awards, and she also received a BRIT Award nomination for International Female Solo Artist, her third nomination in the category and fourth BRIT Award nomination overall. Del Rey began recording her fourth major-label studio album, Lust for Life, just six months after releasing her third.[7][8]
In November 2016, The Weeknd released his album Starboy, which featured two songs that had contributions from Del Rey. She was credited as a featured artist on "Stargirl Interlude", as well as co-wrote and provided background vocals for "Party Monster".
The lead single from Lust for Life, "Love" was registered online during January 2017 under the alternate title "Young in Love". On February 17, 2017, promotional posters for the "Love" music video directed by Rich Lee appeared across Los Angeles, California. Later that day, the full song leaked online. On February 18, 2017, the single was officially released worldwide on all music services. The official music video for "Love" was published to Del Rey's official Vevo channel on February 20, 2017.
On March 29, 2017, Del Rey announced that the official title of the album was Lust for Life by releasing an album trailer on her official VEVO channel. About the album, Del Rey stated: "I made my first 4 albums for me, but this one is for my fans and about where I hope we are all headed."[9]
On April 19, 2017, "Lust for Life", featuring The Weeknd, the second single and title track from the album, was officially released worldwide. The official music video for the song was released on May 22, 2017.
On May 15, 2017, Del Rey officially released a song called "Coachella - Woodstock in My Mind" worldwide as the first promotional single from Lust for Life. She had written the song one month earlier. Two other songs, "Summer Bummer", featuring ASAP Rocky & Playboi Carti, and "Groupie Love" featuring ASAP Rocky were both officially released on July 12, 2017, along with the album pre-order. Lust for Life was officially released worldwide on July 21, 2017. It was received positively by critics and became Del Rey's second number-one album in the United States and third number-one album in the United Kingdom. The album also earned Del Rey a Grammy Award nomination for Best Pop Vocal Album at the 60th Annual Grammy Awards.[10]
Shortly after releasing the album, Del Rey performed several concerts across the United States and Europe as a small promotional tour. In September 2017, Del Rey announced an official world tour entitled the LA to the Moon Tour. The tour began in North America on January 5, 2018, and later included shows in South America, Australia, and Europe. She concluded the tour on a short festival circuit to the Czech Republic and Hungary.
2018–2019: Norman Fucking Rockwell! era
Main article: Norman Fucking Rockwell! (album)
On September 12 and 18th of 2018, Del Rey released the singles "Mariners Apartment Complex" and "Venice Bitch", respectively, to precede her upcoming sixth studio album. Also on September 18, 2018, during an interview with Zane Lowe on Beats 1 Radio, Del Rey announced that the album will be titled Norman Fucking Rockwell!. [11] On January 9, 2019, the third single, "Hope Is a Dangerous Thing for a Woman like Me to Have – but I Have It" was released. On May 17, 2019, the fourth single, "Doin' Time" (a cover of the original song by Sublime), was released. A pre-order was made available for the 14 track long album on August 1, 2019, with a release date set for August 30, 2019.
From March 2019 to July 2019, Del Rey performed on a Festival Tour in Europe to promote the album. The Norman Fucking Rockwell Tour began on September 21, 2019, and carried into 2020 to promote the album as well - it had 16 stops within the United States and Europe.
2020–2021: Chemtrails Over the Country Club era
Main article: Chemtrails Over the Country Club (album)
Del Rey first revealed that she had been working on her follow-up record in an interview on August 30, 2019. She announced that it would be titled White Hot Forever, and estimated that it would be released within 12 to 13 months of the interview as a surprise release. The album's title was later changed as announced by Del Rey on Instagram on May 25, 2020, and was now titled Chemtrails over the Country Club.
She released the album's lead single, "Let Me Love You like a Woman", on October 16, 2020. A teaser of the music video for the title track was posted by Del Rey on December 22, 2020, announcing the song would be released on January 11, 2021, alongside a pre-order for the album.
She released the title track as the album's second single on the said date. The third single, "White Dress", was released as a single upon the album's release, March 19, 2020. "Tulsa Jesus Freak" became the album's fourth single on March 26, 2021.
2021: Blue Banisters era
Main article: Blue Banisters (album)
The album was first hinted at on November 17, 2020, when Del Rey confirmed she was working on two albums. She later announced her next record on Instagram on March 20, 2021, under the title Rock Candy Sweet. However, the title was later changed to Blue Banisters on April 27, 2021.
On May 20, 2021, the first three singles of the album, "Wildflower Wildfire", "Text Book", and the title track were released with little to no promotion. She later released the album's fourth single, "Arcadia", on September 8, 2021. The same day Del Rey revealed the fifteen-track-long album's tracklist, and it also became available for pre-order.
The album was released on October 22, including Chemtrails over the Country Club outtake "Dealer", leaked Ultraviolence outtakes "Cherry Blossom", "Living Legend", and "Nectar of the Gods", and an outtake of an unreleased album featuring The Last Shadow Puppets, "Thunder".
Artistry
Musical style
Del Rey's sound has been dubbed "Hollywood sadcore". Her music has been noted for its cinematic sound and its references to various aspects of pop culture, particularly that of the 1950s and '60s Americana. Rolling Stone noted that Del Rey enjoys playing the role of a lounge singer. Time said the solid core of her sound was "movie music", laid out over-top a hip hop vocal cadence. Attributed to many styles, Del Rey's sound has been tagged broadly as a sort of dream pop or baroque pop linked to various forms of rock, indie music, and trip-hop, and often touching on styles such as hip hop, trap music, and psychedelic rock on particular releases. Of Born to Die, indie music journal Drowned in Sound wrote, "She likes that whole hip hop thing though, has this whole swagger thing going that not many girls like her got", adding that it sounded like a poppier Bond soundtrack. In "National Anthem", "Off to the Races," and "Diet Mountain Dew", Del Rey employs this alternative rapping technique. Under the stage name Lizzy Grant, she called her music "Hawaiian glam metal", while the work of her May Jailer project was acoustic.
Del Rey has been described as a "self-styled gangsta Nancy Sinatra" and "Lolita lost in the hood". Del Rey has also been called "a torch singer of the internet era" and "the anti-Gaga."[12] Following in the shadow of artists like Prince and David Bowie, Del Rey chose her musical identity because it "reminded [her] of the glamour of the seaside. It sounded gorgeous coming off the tip of the tongue".
Del Rey has attributed her work to various stage names including Lizzy Grant, Lana Rey Del Mar,[13] Sparkle Jump Rope Queen,[14] and May Jailer.[15] Settling on Lana Del Rey, the singer claims she selected the name because it was beautiful. The first mention of the name Lana Del Rey came from her Spanish-speaking Cuban friends.
Voice timbre
Del Rey possesses an expansive contralto vocal range, which spans three-plus octaves and has been described as captivating and highly emotive, being able to transcend from sounding high and girlish in her timbre, down to a low and jazzy sound with great ease, although both these areas of the voice can be conflicting in the contrast of their sound, initially polarizing opinion. Following the release of Ultraviolence, which was recorded live in single takes and lacking Pro Tools vocal editing, critics fell in favor of Del Rey's vocal ability, praising her large range, increased vocal confidence, and uniquely emotive delivery. When recording in the studio Del Rey is known for vocal multi-layering, which, as it has been noted, is difficult for her to replicate within a live setting, especially with the lack of backing singers to fill out the original vocal style. Stage fright has also been noted as a major contribution to Del Rey's struggles with live performances. However, journalists noted in 2014 that her live performances had increased exponentially in confidence. Billboard Magazine deemed the Coachella debut of "West Coast" to be a "star-making performance" and lauded the singer's vocal abilities. Contemporary music critics have called her voice "smoky", "gravelly", and reminiscent of Marilyn Monroe.
Del Rey stated the use of her lower vocals on the tracks from Born to Die, claiming that "people weren't taking me very seriously, so I lowered my voice, believing that it would help me stand out. Now I sing quite low... well, for a female anyway".[16]
"I sing low now, but my voice used to be a lot higher. Because of the way I look, I needed something to ground the entire project. Otherwise, I think people would assume I was some airhead singer. Well, I don't think... I know. I've sung one way, and sung another, and I've seen what people are drawn to", she said on the topic.[17]
Influences
Amongst her musical influences, Del Rey cites several artists, including Elvis Presley, Antony and the Johnsons, Frank Sinatra, Eminem, Amy Winehouse, Billie Holiday, Britney Spears, Bruce Springsteen, Janis Joplin, Nina Simone, Father John Misty, Bobby Vinton and Kurt Cobain. "[I really] just like the masters of every genre", she told BBC radio presenter Jo Whiley. Her favorite artists include Bob Dylan, Frank Sinatra, Jeff Buckley, and Leonard Cohen.[18] Del Rey recorded a cover of Cohen's "Chelsea Hotel No. 2" in 2013, and in 2017 she performed the song with his son, Adam Cohen, during a memorial tribute concert for the artist. She also names "strong female characters" such as Courtney Love, Stevie Nicks and Joni Mitchell as inspirational. As well, Del Rey cites fellow female artists Marina Diamandis, Florence Welch, and Natasha Khan as women she admires and would love to work with.[19]
Janis Joplin's live version of "Summertime" from the Cheap Thrills compilation album is one of Del Rey's favorite songs. Del Rey has also cited "Time of the Season" by The Zombies and "Hotel California" by The Eagles as favorites and inspirations. Her favorite films, The Godfather, The Godfather Part II, and American Beauty have also inspired her musical style.[20] Inspired by poetry, Del Rey cites Walt Whitman and Allen Ginsberg as instrumental to her songwriting. Specifically, she enjoys the chapbook "Leaves of Grass" by Whitman and the poem "Howl" by Ginsberg. Her song, "Body Electric" from her third EP, Paradise, alludes to Whitman in the lyric, "Whitman is my daddy". The song's chorus of "I sing the body electric" is a direct reference to his poem "I Sing the Body Electric". She recited Whitman's poem "Song of Myself" for the French fashion magazine, L'Officiel.
Personal life
Del Rey stated that she suffered from alcoholism at a young age, but became sober during 2004. In late 2012, she told GQ magazine:
"I was a big drinker at the time. I would drink every day. I would drink alone. I thought the whole concept was so fucking cool. A great deal of what I wrote on Born to Die is about these wilderness years. When I write about the thing that I've lost I feel like I'm writing about alcohol because that was the first love of my life. My parents were worried, I was worried. I knew it was a problem when I liked it more than I liked doing anything else. I was like, 'I'm fucked. I am totally fucked'. Like, at first it's fine and you think you have a dark side – it's exciting – and then you realise the dark side wins every time if you decide to indulge in it. It's also a completely different way of living when you know that... a different species of person. It was the worst thing that ever happened to me."
Del Rey currently lives in the Los Angeles area of California, United States. Del Rey was in a relationship with photographer Francesco Carrozzini from June 2014 to November 2015, but due to disagreements on settling down together, the two broke up. She was also in a relationship with Barrie James O'Neill from 2011 to June 2014, but they ultimately decided to end their romance (because they had a "dark" relationship, Del Rey claimed). She previously had a relationship with Steven Mertens who produced her first record Lana Del Ray before David Kahne's involvement, as well as an alleged relationship with a music industry executive. In July 2017, Del Rey stated that she had a boyfriend, but his name was never revealed.[21] Although, it is speculated to have been rapper G-Eazy. Del Rey was rumored to be dating actor and model Chase Stogel from January 2019 to July 2019, but their relationship was never officially confirmed. She began a relationship with policeman and reality TV star Sean "Sticks" Larkin in September 2019. Their split was officially announced via Larkin himself during an interview in March 2020.[22] Del Rey also dated musician and singer Clayton Johnson. It is not known for how long, but Johnson appeared in Del Rey's public life via an Instagram story in September 2020, and as of June/July 2021 they have split up. They were believed to have been engaged.[23]
Main article: List of tattoos
Del Rey has multiple tattoos, including the word "paradise" and an "M" on her left hand, "trust no one" and "die young" on her right, "Chateau Marmont" on her left arm, "Whitman Nabokov" on her right arm, "Nina Billie" on the left side of her collarbone, and "Whitney Amy" on the right side of her collarbone.
Discography
Main article: Discography
Albums:
Extended plays:
Tours
Filmography
Main article: Videography
Awards and nominations
Main article: List of awards and nominations
Del Rey has accumulated 14 awards from 57 nominations since her major-label debut, including winning an Ivor Novello Award for "Best Contemporary Song" with her single "Video Games", in 2012. Del Rey received Grammy Award nominations for "Best Pop Vocal Album" with Paradise, and "Best Song Written for Visual Media" with "Young and Beautiful" in 2014. In 2015, Del Rey won the MTV Europe Music Award for "Best Alternative", and in November 2015, she was honored with the "Trailblazer" Award provided by the Billboard Women in Music Awards. In February 2016, Del Rey received the "Best Female Artist of the Year" award from The Elle Style Awards by Elle magazine. Del Rey's fifth studio album, Lust for Life earned her a second Grammy Award nomination for Best Pop Vocal Album at the 2018 Grammy Awards.
External links
References