Kill Kill was the first digital EP by Lana Del Rey. It was released digitally on October 21, 2008, in the United States by 5 Points Records under her then stage name Lizzy Grant. The three songs on the EP would later be included on her first studio album, Lana Del Ray, in 2010.
Background and composition
[
]
The title track, "Kill Kill", was originally titled "The Ocean"; however, the title changed after it was dismissed as "boring" by producer David Kahne. In frustration, Del Rey crossed out "The Ocean" above the lyrics, and wrote "Kill Kill" in place of a title.
"Yes, when I recorded with Davey, we recorded 13 songs. So I was never expecting to release an EP, but when iTunes came to us and became fervent supporters and said, "Put out anything and we'll give you the artist's spotlight," we decided, okay, we'll just put out an EP, which was released on October 21."
In an interview, Del Rey called the EP's genre, "Hawaiian glam metal." Artists that influenced the EP's sound include Elvis, Poison, and Van Halen. Songwriter and founder of 5 Points Records, David Nichtern, revealed to MTV that Kill Kill was a way for Del Rey and her team to generate some buzz before releasing a fully produced studio album. He also called the title track, "a very good song."
On August 1, 2019, an interview on the EP leaked on Reddit and YouTube. In this interview, Del Rey talks about the production of the EP and her future plans.
Critical reception
[
]
Felicia Sullivan of The Blog stated that the songs from the three track EP "offer an eclectic mix of jazz, pop, electronica, rock, blues and hopeful melancholy. Her videos are quirky, odd, magical and infatuated with Americana. And while scores of other artists attempt to craft pithy esoteric poetry, Grant's lyrics are wholly dark, elegant, and beautiful".[1] Index magazine, also praised the EP, saying that "the music is lush and cinematic, with strings, Wurlitzers, and electric guitars, recalling 50s-era Americana both sonically and thematically. The mix is anchored by Lizzy's voice, which twists between a smoky gravel and a breathy Marilyn coo as she wails about the timeless ache of love in a modern world.[2]
Artwork
[
]
The cover art for Kill Kill was shot by Chuck Grant during August 2008 in New Jersey. It features Del Rey posing nude in front of a bright light with only a colorful Hawaiian flower garland. Two alternate draft artworks have surfaced and include minor text and unretouched differences. The first alternate artwork was used in an event poster for her then upcoming show at Pianos in Manhattan, New York during February 2009.
Singles
[
]
The title track and opening track from the EP, "Kill Kill", was referred to as the EP's only single, although the song never received individual, commercial, physical or radio release. A music video accompanied the track and was published during 2008.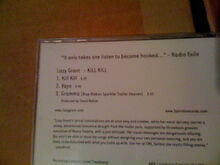 Track listing
[
]
References
[
]