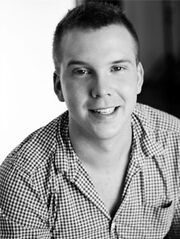 Daniel Law Heath is a British composer, songwriter and producer known for his work both on screen and popular music. He is trained in classical and jazz piano as well as having two degrees in scoring and composition. He has worked with renowned film composer Hans Zimmer on films such as Pirates of the Carribean and The Da Vinci Code. He has worked with Lana Del Rey many times both as a producer and a writer.
Work with Lana Del Rey
About the professional and personal relationship with Lana Del Rey, they both had stated they have been friends for a long time, Del Rey even refered to him as "her best friend" on a couple of interviews. Heath described the collaborative work between the two as working in two ways; sometimes she'd sing him a melody lyric idea and then he would build the music around it, or he'd write a piano or a string piece – or even a full fleshed-out track that she would sing a melody and lyrics to it [1].
The first known track they've worked together on was "Blue Jeans" that according to Del Rey started off as a classical six chords composition riff that she got from him before working with Emile Haynie who finished the track. [2] He worked along with Larry Gold on the strings arrangement of three other tracks from her 2012's debut album Born to Die, as well as working on the instrumentation of seven out of the nine tracks from her follow-up EP, Paradise, where he took the role of a lead producer on three tracks; "Body Electric", "Yayo" and "Bel Air", the latter of which was solely produced by him.
He also adapted his string arrangement of Del Rey's song "Ride" into the short film's intro and outro, as well as composed, conducted and arranged the full score and orchestral arrangements from her 2013's short film Tropico, including a brand new piece that plays at the end of the movie. Around this time, he worked on the production of the cover "Once Upon A Dream" for the 2013 movie Maleficent, featured on James Newton Howard's soundtrack, as well as the song "Young and Beautiful" for the Baz Luhrmann's directed movie The Great Gatsby, where his fully produced version of the song was featured on the song's music video.
Heath also worked on Lana's Ultraviolence album on 2014, writing three tracks, and producing one of them ("Old Money") as well as remixing lead single "West Coast" where he rearranged, composed and conducted a new string arrangement for the song. He also worked on a demo track originally called "Melancholia" that was reworked into the album's title. Around this time, it is speculated that he worked on an unreleased song titled "Ave Maria", that according to some leakers is only an instrumental piece sent to Del Rey that ended up unused. The track leaked on January 13th, 2021.
He and Del Rey would work together again on movie soundtracks, on the Golden Globe and Academy Awards nominated song "Big Eyes" for the Tim Burton's 2014 film Big Eyes, and the rework of a track he and Lana worked on 2012 during the Paradise sessions, known as "Life Is Beautiful" for the trailer of the 2015's movie The Age of Adaline, a song that remained unreleased until it leaked on 2020. Heath and Del Rey worked together until her 2017's album Lust For Life, where he worked on the orchestral overture of the track "13 Beaches". On 2021, Heath worked for Chemtrails Over the Country Club on the title track, as well as on the track "Living Legend" for Blue Banisters
Credits