Born 4th february 1994 in Los Angeles, musician, singer...called Clay appared in Lana's public life in a Instagram Story in september 2020 where Lana was dancing happy with a Clay's t-shirt San Francisco 49ers team for "Fantasy season" . He s' got 2 brothers and a sister. He created a band with his brothers called The Johns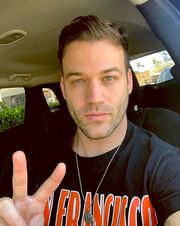 ons the Johnsons' youtube whose made some successull covers on youtube like  Justin Bieber, Ellie Golding since 2014 and produced showcases in L.A. He's a very fervor supporting baseball San Francisco team 49 ers. He's appearing hand in hand with Lana on 19th september 2020 for a birthday's Lana's friend in valle de Guadalupe, Mexico Baja California.
Polemic : Some fans was troubling by some Clay's very old posts but he answered on tweeter by apologises the 8th september 2020 : "Yesterday, tweets from my teenage years 12 years ago were dug up, and while age is not an excuse for any derogatory language, I'm thankful to have grown and learned over the years from friends, family and my community. I sincerely apologize to you all for such insensitive" or about supporting Trump he answered : " I did not vote for him. I've followed every president on twitter, whether I liked them or not. As the leader of the most powerful nation I think it's important to see what our president is saying and doing" and then : "I don't think being ignorant in the past makes me racist. Education and action are most important. Currently enrolled in an intercultural comm class to educate myself and continue to grow. Nothing but love for my black brothers and sisters and I'll continue to fight for them"...
Clayton on Instagram :
https://www.instagram.com/claywatch/
Clayton on Tweeter :
Community content is available under
CC-BY-SA
unless otherwise noted.